T

witter on 3rd May 2021 commemorated World Press Freedom Day by launching a global campaign, #FollowLocalJournalists to spotlight, elevate and support local journalism — which is a vital resource for communities around the world, especially now for people seeking COVID-19 information.
What Twitter's doing, and how you can get involved:
#FollowLocalJournalists on Twitter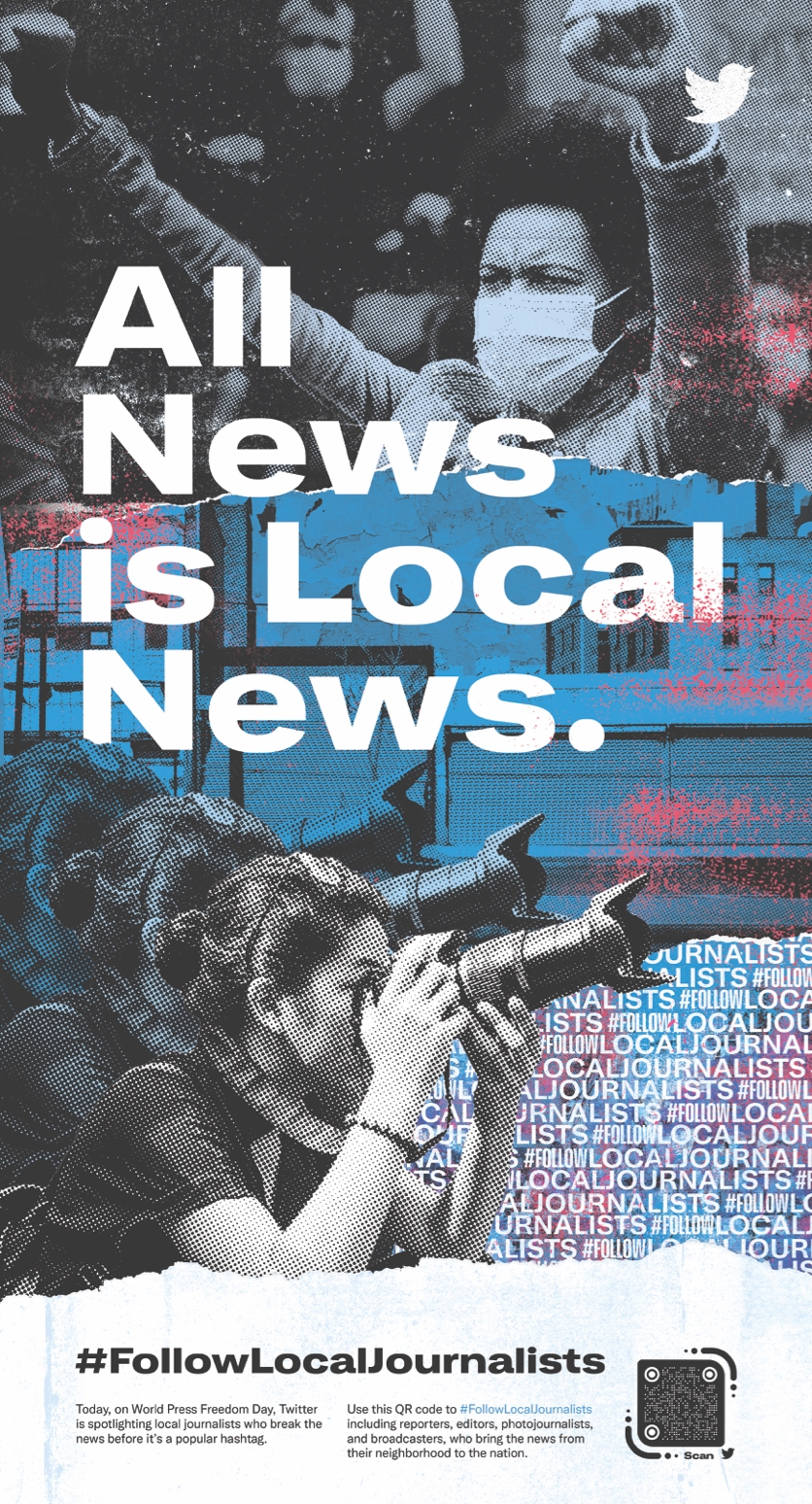 Twitter has organized a global day of action on May 3rd centered around the hashtag #FollowLocalJournalists. Its encouraging everyone — prominent national reporters, journalism advocacy organizations, and everyday passionate news consumers — to share impactful examples of local journalism and elevate the reporters who contributed to it.
The goal is to spotlight these reporters' work and increase their audience.
Local Newspaper Ad Campaign
Twitter is running an ad campaign in 28 local newspapers across the United States, including The Detroit Free Press, The Des Moines Register, The Miami Herald, and The Kansas City Star to support these outlets and amplify the #FollowLocalJournalists initiative.
The ads, which will run in print and online, will direct readers to Twitter Lists of journalists created by each newspaper and by Twitter.
Tune in on Spaces
Twitter has organized Twitter Spaces around the world where people will be able to hear directly from journalists about the issues facing their industry, including:
In India, with journalists reporting from the frontlines of the ongoing COVID-19 crisis, newsrooms are facing incredible challenges. To discuss the impact of this crisis on the media, Twitter is hosting a Space for senior editors from across the country (Delhi, Bengaluru, Mumbai and Guwahati) in conversation with the Twitter India news team.
In the Philippines, journalists from Rappler will host a Space focused on the idea that "When journalists can't ask, we can't act."
In Myanmar, the @ViceWorldNews team based across Southeast Asia will bring a group of Burmese journalists together to talk about #whatshappeninginmyanmar in the aftermath of the bloody coup there, and how so many journalists are risking their lives and freedom to tell this story.
In Japan, @TwitterNewsJP is hosting two Spaces with journalists to discuss ways to support the needs of local news outlets, and the state of journalism nationally.
In Thailand, Sutichai Yoon is hosting a Space with local journalists to discuss what inspires and challenges them and how social media has impacted their work.
In Brazil, @Abraji and @RSF_pt is hosting a Space with five local journalism organizations focused on the state of journalism in Brazil.
Partnership with UNESCO and NGOs working on protecting journalists
Twitter has also continued our partnership with UNESCO this year to help drive conversation around World Press Freedom Day. We were proud to attend Asia Pacific Regional Consultation for World Press Freedom Day 2021 to discuss our commitment to a free press, and join UNESCO and global experts to discuss the role of technology in promoting media and information literacy.
Together, we also launched Twitter emojis for the hashtags #FollowLocalJournalists, #WorldPressFreedomDay, #PressFreedom and #WPFD2021 in 20 languages.
Additionally, as a part of our commitment to freedom of expression and an open internet, we've provided trainings and Ads for good grants to non-profit organizations such as Committee to Protect Journalists, Reporters sans frontière, Philippine Center for Investigative Journalism, National Union of Journalists of the Philippines, Engage Media, and PEN America.
Throughout the year, #FollowLocalJournalists will be the theme of @TwitterNews' events, trainings and advocacy work.