Femina, has launched its maiden digital cookbook, Femina Daily Delights. The special issue cookbook seeks to add a little spice (and sweet) in everyone's cooking station and assist those who need it. With an extensive catalogue of contributions from most-revered restaurateurs, professional chefs, and non-professional home cooks, Femina Daily Delights is accessible to all.
With an objective to make cooking enjoyable again, Femina Digital Daily offers 45+ easy-to-cook, scrumptious video recipes, functional ideas and techniques, exhaustive weekly menu planner, along with a catalogue of kitchen essentials.
It features a host of cuisines and variations ranging from Asia-inspired dishes, Continental, vegan, healthy and nutritious, alike.  The cookbook aims to be the perfect guide to plan out the whole week's menu, from Sunday – Saturday, with a little something for everyone in the entire family.
In its maiden edition, the digital cookbook features television host Maria Goretti whipping up her favourite recipes for the issue and talks about her love for food & her journey towards culinary excellence. The expert chef will inspire the readers with the motto of 'anyone can cook' and motivate them to put out great appetizing meals on the table.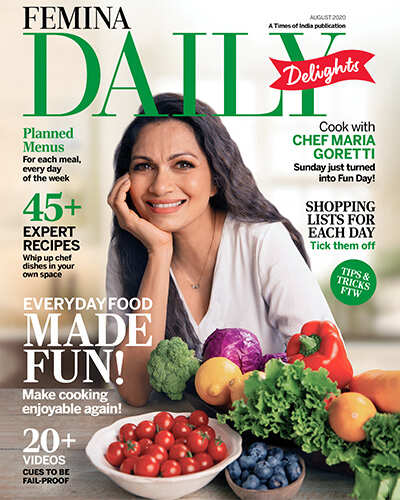 The digital issue will see curate recipes of over 45 delectable dishes by more than 25 of India's leading chefs and food experts. The roster of chefs and food experts include celebrity chef Sarah Todd, Chef Daniel Koshy (Executive Chef, JW Marriott), Chef Dhruv Oberoi (Head Chef, Olive Qutub & Serai), Chef Gaurav Anand (Executive Chef, Sheraton Grand Bangalore), Chef Irfan Pabaney (Country Head, Soda Bottle Opener Waala) amongst others.
Readers will get access to detailed shopping lists for each day, over 20 videos for fail-proof guidance along with expert tricks & hacks that will come in handy now and always
Link to Femina Daily Delights: https://www.worldwidemedia.in/magazines/femina/august-2020-delights